The following picture is of an old plot layout of the cemetery. The "X" (in the picture) represent the number of persons that were buried in each family plot.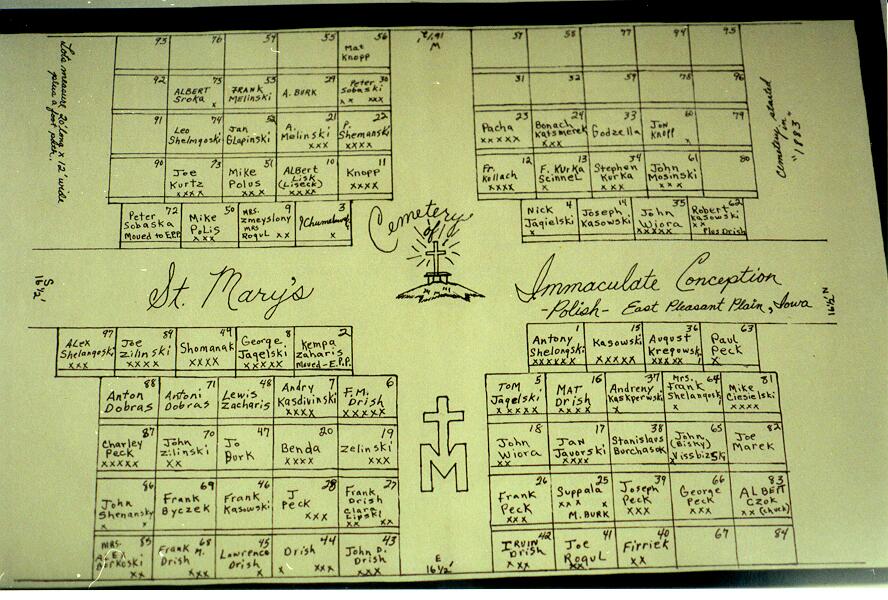 There are two different lists of people buried in the Polishville Cemetery. I have combined these lists and added names from headstones that were not on either list.
This list is in name order (sort of), click here to see the physical layout of the headstones.
Data from the list
Data from the headstone
Name
Age
Birth
Death
Buried
Name
Age
Birth
Death
Carl F Baldosier
7 Feb 1909
Darlene D Baldosier
24 Jan 1926
Catharina Banach
64
10 Nov 1916
Frank Banach
1894
1975
Joannes Banach
79
7 Oct 1930
Martha Barck (Burka)
43
3 Dec 1928
Martha Rose Burk
1885
1928
Carolus Edardis Barek
18 Aug 1902
Elizabeth Benda
1823
1908
Elizabeth Benda
25 Aug 1823
4 Feb 1908
Joseph Benda
1823
1902
Joseph Benda
78Yrs. 5Mo. 7D.
10 Sep 1823
17 Feb 1902
Bertha Bncher
8 Jun 1905
Alexander Borkaski
74
9 May 1935
Alexander Borkoski
1848
1935
Julia Barkoski
88
23 Sep 1953
Julia Borkoski
1865
1953
Franciscus Burcker
28
24 Aug 1896
Andrew Burk
1902
1903
Charles Burka
1909
1909
Charles E. Burke
1909
Joseph Burka
1821
1888
Dorthy Byczek
1907
1908
Rafael Byczek
29 Mar 1905
Josephine Ciesielski
72
19 Mar 1974
Josephine Ciesielski
1902
1974
John Ciesilski
73
16 Oct 1971
John Ciesielski
1898
1971
Michael Ciesielski
68
28 Jan 1930
Mike Ciesielski
1860
1930
Rosalia Ciesielski
60
3 Feb 1920
Joseph Cieszki (Kaska)
Albertus Czok
82
23 Jun 1921
Catherina Czok
82
3 May 1929
Katarzyna J. Czok
1846
1929
Wojciech P Czok
1841
1921
Antonius Dobras
77
18 Apr 1912
Anthony Dobras
1834
1912
John Dobras
22
2 Oct 1903
John Dobras
1880
1903
Pauline Dobras
1856
1925
Pauline Dobras
31
6 Sep 1920
Pauline Dobras
1889
1920
Adam Drish infant
1895
1895
Alexander Drish
1894
1918
Pvt. Alexander S. Drish
1894
1918
Alvina Drish
1884
1887
Alvina
25 Jan 1884
23 Oct 1887
Anna Drish
1900
1925
Anna
1900
1925
Anna Drish
25
4 Feb 1922
Bertha Drish
1887
1887
Bertha
30 Jan 1886
1 Nov 1887
Barbara Drish
75
9 Nov 1973
Barbara Drish
1898
1973
Elsie Drish
1937
1937
Elsie Drish
5 Sep 1937
Elaie Drish infant of Frank & Genevieve
11 Sep 1939
Elizabeth, Mrs John Drish
1870
1953
Elizabeth E. Drish
1870
1953
Elizabeth Eva Drish
82
12 Jan 1953
Elizabeth Drish
1931
1931
Elizabeth Drish
28 Feb 1931
Frank L Drish
1904
1984
Frank L. Drish
1904
1984
Frank M Drish
1854
1920
Frank M. Drish
1854
1920
Genevieve Drish
1907
19
George Drish
1907
1907
Georgie Drish
15 Aug 1907
George Drish
1880
1882
Herman A. Drish
24 Jan 1911
1 Feb 1990
infant Drish
1899
1899
Drish infant of Frank & Genevieve
13 Feb 1931
Irwin Drish
6 Jun 1880
1 Oct 1928
John D Drish
1862
1939
John D. Drish
1862
1938
John Drish
23 May 1939
Josephine Drish
1908
1922
Josephine Drish
1908
1922
Josephine Drish
13
14 May 1921
Laurence A Drish
1907
?
Lawrence A. Drish
1907
1994
Leorzus Drish
20 Oct 1925
Lizzie Drish
1879
1880
Margaret Drish
1883
1907
Mary Drish
1866
1886
Mary Drysh
19yrs. 2mo. 20d
18 Jan 1886
Mary Drish
88
4 Jun 1949
Mary Drish
1860
1949
Mary, Mrs. Simon Drish
1824
1896
Mary Drish
72Ys 6Ms 2 Dys
16 May 1896
Mathias Frank Drish
1835
1916
Father
Mathias F. Drish
24 Feb 1835
24 Oct 1916
Peter Paul Drish
1888
1917
Peter Paul Drish
15 Jan 1888
23 May 1917
Peter Paul
Pius Anthony Drish
1885
1975
Pius A. Drish
1885
1975
Simon Drish
1822
1894
Simon Drish
72Ys 9Ms 28Dys
14 Apr 1894
Tekla, Mrs Mathias Drish
1858
1941
Tekla Drish
6 Jul 1858
30 Jul 1941
Thecla Anna Drish
84
2 Aug 1941
Thomas Drish, Infant
1901
1901
Thomas L Drish
70
5 Mar 1975
Thomas Drish
1905
1975
Alojiens Drisz
26 Mar 1905
Maria Drys
Vencent Drys
Cacielia Drysh
18 Dec 1899
Adolphus Drysz (Adolph Drish)
20
31 Oct 1910
Adolph Drish
6 Jun 1890
28 Oct 1910
Franciscus Drysz
8 Jul 1920
Gertrudie Drysz
12 Sep 1899
Johanna Drysz
51
28 Jan 1914
Johanna Drish
25 Nov 1862
25 Jan 1914
Joseph Dryrs
13 Jun 1897
Drzycimski infant at birth
20 Nov 1946
Martin Drzycimski
82
10 Sep 1948
Mrs. Mary Drzycimski
64
7 Jan 1946
Lucy, Mrs M Ferguson
1896
1923
Lucy M. Ferguson
1896
1923
Lucia Furgason
26
5 Nov 1923
Ferrick Gertrude
17
18 Apr 1921
Ferrisk
3 Dec 1908
Marrianna, Mrs Michael Fredrick
1863
1906
Marrianna Firrick
12 Dec 1868
20 Sep 1906
Anna Gancer
1825
1913
Anna Gaworski
88
11 Dec 1913
Joannic Gojarnski
70
Apr 1930
Marianna Gozdziela
63
7 May 1927
Thomas Gozdziela
1867
1919
Eleonora Gwozdziela
52
12 Feb 1919
Anna Ivorski
78
3 May 1969
Anna Ivorski
14 Jul 1890
30 Apr 1969
Guatavia, Mrs John Ivorski
1829
1925
Gustavia Ivorski
1828
1925
Helen Ivorski
83
7 May 1953
Helen Ivorski
27 Sep 1869
4 May 1953
John Ivorski
1834
1921
John Ivorski
1834
1921
Antonius Gagielski
George Jagelski
1858
1912
Henry Jagielski
1880
1945
Henry Jagielski
1880
1945
Jagnacy Gagelski
1818
1895
Jagnacy Jagelski
77Y 8M 17D
19 Oct 1895
Ignatius Jagielski
Jane Jagielski
72
16 Sep 1958
Joseph Jagielski
83
11 May 1959
Josephine Jagielski
94
4 Jan 1941
Josephine Jagielski
1 Jan 1847
2 Jan 1941
Leo Jagielski
13 Aug 1904
Mary Anna, Mrs Jagnacy Jagelski
1822
1877
Marcy Anna Jagelski
77Ys 8M 15D
13 Sep 1899
Marcella Jagelska
15 Sep 1899
Nick Jagelski
1888
1888
Thomas Gelski
69
25 Mar 1909
Thomas Jagielski
21 Dec 1840
22 Mar 1909
Vincentius Jagielski
24 May 1902
Ada Jlapinski
1906
1906
Eva Jlapinski
1905
1906
Frances Jlapinski
1908
1908
Heva Jordan
19 Mar 1903
infant Jordan
1903
1903
Heva Kaloch
20 Oct 1902 or 1903
Albert Kasowski
1817
1906
Father
23 Apr 1817
2 Sep 1906
Esther Kasowski
1899
1899
Josephine, Mrs Albert Kasowski
1838
1902
Mother
19 Mar 1838
4 May 1902
Josepha Kasowska
6 May 1902 or 1903
Martha Kasowska
23 Dec 1904
Peter Kasowski
1869
1892
Peter
26 Nov 1869
15 Jun 1892
Powel or Paiol Kasowski
1813
1890
Robertus Kasowski
21
26 Feb 1913
Robert Kasowski
22 Sep 1891
24 Feb 1913
Antonius Kassowski
11
23 Aug 1930
Josephus Kassowski
25 Nov 1923
Staneslaus Kaspreykowski
5 Mar 1898
Andrew Kasprzykowski
1829
1923
Andrew Kasprzykowski
1829
1923
Andrea Kasprzykowski
92
19 Jun 1923
Katherine, Mrs Andrew Kasprzykowski
1835
1906
Katherine Kasprzykowski
1835
1906
Karoline Kaufmann
Edwardry Knop
4 Nov 1896
Eddie Knopp
Oct. ?
4 Nov 1896
Francescus Knopp
13
23 Oct 1913
Frank Knopp
1882
1900
Frank Knopp
14 Nov 1882
25 Apr 1900
Ladislaus Knopp
8
26 Jun 1911
Walter Knopp
1911
1911
Francissus Knopsek
9 Mar 1900
Eva Kolloch
1902
1902
Eva Kolloch
29 May 1902
20 Oct 1902
Francis Kolloch
1829
1895
Francis Kolloch
85Y 8M 20D
21 Jun 1895
Franciscus Kolloch
83
27 Dec 1915
Frances M. Kolloch
2 Apr 1832
23 Dec 1915
Julian Kolloch
1891
1891
Julian Kolloch
2M 7D
16 Mar 1891
Mary Kolloch
1892
1892
Mary Kolloch
22Ds
14 Feb 1892
Vincent Kolloch
1904
1905
Vincent Kolloch
5 Oct 1904
2 Nov 1905
Adam Kregowski
1891
1910
Adam
29 Sep 1891
23 Oct 1910
Adam Kreogowski
19
25 Oct 1910
August Kregowski
1846
1923
Father
15 Jul 1846
20 Mar 1923
Catherine, Mrs August Kregowski
1857
1906
Mother
6 Apr 1857
25 Apr 1906
Teresa Kregowski
1880
1891
Teresa
15 Oct 1880
18 ??? 1891
Agnes Kurka
40
4 Aug 1914
John J Kurka
1824
1902
John J. Kurka
1824
1902
Susana, Mrs. John Kurka
1825
1897
Susana Kurka
1825
1897
Suzanna Kurka
1898
Bertha Kurtz
8 Aug 1897
Hubert Kurtz
48
2 Jun 1934
Hubert
1886
1934
Joseph Kurtz
69
28 Apr 1930
Joseph Kurtz
1860
1930
Mrs. Mary (Joseph) Kurtz
78
8 May 1941
Mary Kurtz
1863
1941
Theodore Kurtz
48
26 Mar 1937
Theodore
1898
1937
Gertrude Agnes Lamansky
29
15 Dec 1920
Clara Lipski
1882
1929
Clara Lipski
8 Jan 1882
11 Oct 1929
Clara Lyaska
47
15 Oct 1929
Anna Lisck
84
25 Apr 1929
Albert Lisk
75
7 Jun 1926
Joseph A. Marek
29 Jun 1900
26 Apr 1996
Rose B. Marek
20 Mar 1905
15 Mar 1993
Victor B. Marek
1928
1997
Andrew Melinski
1845
1901
Andrew Melinski
1845
1901
Mary, Mrs Andrew Melinski
1862
1888
Mary Melinski
1862
1888
Otto Melinski
23
19 Apr 1911
Otto Melinski
1887
1911
Anna Mosinska
45
7 Oct 1913
Anna Mosinski
45Y 6M 16D
Dec 1868
18 Mar 1910
John Mosinski
73
2 Sep 1940
John Mosinski
72Y 5M 12D
18 Mar 1867
30 Aug 1940
Stella Mosinski
60
7 May 1938
Miss Anna Pacha
1875
1892
Anna Pacha
1875
1892
Agnes Pacha
1891
1891
Agnes Pacha
1891
1891
Jacob Pacha
1889
1889
Jacob Pacha
1889
1889
Alycia Peck
4
1 Aug 1921
Alice A. Peck
1917
1921
Mrs. Bertha (Frank) Peck
68
12 Sep 1955
Bertha J.
1887
1955
Catherine Peck
1908
1908
Catherine Peck
19 Nov 1908
28 Nov 1908
Catherine Peck
19 Nov 1908
28 Nov 1908
Charles Peck
74
14 Apr 1948
Charles Peck
1873
1948
David Peck
71
27 Feb 1981
David A. Peck
1910
1981
Miss Elizabeth Peck
1875
1955
Elizabeth Peck
1875
1955
Esther J. Peck
1913
1994
Frank Peck
85
19 Sep 1965
Frank M. Peck
1880
1965
Georgius Peck
49
27 Apr 1932
George Peck
187?
1932
Harold Eugene Peck
1½ weeks
25 Jan 1939
Harold E. Peck
15 Jan 1939
24 Jan 1939
Johanna, Mrs Joseph Peck
1839
1909
Johanna Peck
10 May 1839
18 May 1909
Joseph Peck
1833
1906
Joseph Peck
19 Mar 1833
31 May 1906
Lucy, Mrs Charles Peck
1877
1962
Lucy Peck
1877
1962
Laurence Peck
1887
1907
Laurence Peck
20 Jan 1887
19 Feb 1907
Mary, Mrs Theodore Peck
1845
1892
Mary Peck
47Ys
2 Feb 1892
Ralph Peck
24
2 Jul 1930
Ralph J. Peck
1906
1930
Richard Peck
52
18 Apr 1963
Richard W. Peck
1911
1963
Theodore Peck
1837
1917
Theo. Peck
19 Mar 1837
28 Jul 1917
Thomas J Peck
1873
1900
Thomas J. Peck
18 Sep 1873
6 Feb 1900
Thomas Pik
8 Feb 1900
Adalbert Pejsia
Jacob Pejsia
Catherine Polis
1890
1890
Catherine
1890
1890
Catherine
Wojeck (Grandpa) Polis
1819
1897
Wojech Polus
1819
1897
Wojech Polus
Adalbertus Polus
23 Apr 1897
Magdalena Polus
72
20 Jul 1919 ?
Magdalena Polus
1843
1919
Magdalena Polus
Michael Polus
94
14 May 1937
Franciscus Rogal
11 Dec 1899
Francis Rogal
1899
Herman Rogal
71
19 Mar 1982
Herman N. Rogal
1911
1982
Joseph Rogal
1904
Jan 1913
Joseph Rogal
1904
1913
Joseph Rogal
67
27 May 1929
Joseph P Rogal
1860
1927
Joseph Rogal
1860
1927
Lucy Rogal
72
17 Nov 1950
Lucy Rogal
1878
1950
Adamus Rogalski
1896
24 Sep 1897
Adam Rogal
1896
1897
Joseph Samscan
23 Jul 1901
Sannes (Adannus) 1st. name?
28
19 Oct 1896
Agnes G, Mrs John Scannell
1874
1914
Agnes G. Scannell
1874
1914
Agnes V Shelangoski
1911
1983
Agnes J. Shelangoski
19 Apr 1911
28 Apr 1983
Albert Shelongoski
58
27 Dec 1960
Albert F. Shelangoski
22 Apr 1902
24 Dec 1960
Alexander S Shelangoski
1898
1968
Alexander S. Shelangouski
26 Feb 1898
13 Jun 1968
Anthon Shelangoski
77
20 Feb 1923
Anton Shelangoski
1845
1923
Clesta Shelangoski
1916
1976
Clesta Shelangoski
7 May 1916
17 May 1976
Constance Shelongoski
71
22 Oct 1938
Constance Shelangoski
1867
1938
infant Shelangoski
1919
1919
Mrs. Katie B Shelangoski
1877
1939
Katie B. Shelangoski
27 Mar 1877
1 Oct 1939
Ladislaus Shelongowski
9 Dec 1924
Mary, Mrs Anthon #1 Shelangoski
1846
1889
Mary Shelangoski
1846
1889
Nicholas Shelangoski
1886
1909
Stanley Shelangoski
1887
1911
Stanley Shelangoski
1887
1911
Walter Shelangoski
1905
1925
Walter Shelangoski
1905
1925
Mrs Catherine Shemanski
79
29 Feb 1936
Kathrine Shemanski
1856
1936
John Peter Shemanski
56
26 Oct 1946
John P. Shemanski
1890
1946
Pauline, Mrs John P Shemanski
1894
Pauline Shemanski
1894
19
Peter Paul Shemanski
83
4 May 1933
Peter Shemanski
1850
1933
Raymond Shemanski
23 Sep 1923
16 Apr 1924
Herominus Sobacki
Sobaski 3 infants
No dates
Three Infants
Mary Sobaski
1910
1910
Natalie Sobaski
1889
1889
Natalie Sobaski
1889
Otolia Sobacka
Petrus Sobaski
83
9 Nov 1931
Stella Sobaski
No dates
Stella
Eva Sobocka
1911
Ludovicus Sroka
13
19 Dec 1910
Ludwick Sroka
25 Aug 1887
16 Dec 1910
Magdlena Stalder
39
Clement Supalla
1900
1900
Clement Supalla
9 Jan 1900
22 Jan 1900
Jacob Supalla
1831
1902
Jacob Supalla
1831
1902
Magdeline Supalla
1905
1905
Magdeline Supallas
12 Jan 1905
23 Jan 1905
Mary, Mrs Jacob Supalla
1838
1908
Mary Supalla
1838
1908
Maria Szclengowski
1
12 Sep 1911
Mary Jedrijczak Szymaniak
1815
1904
Mary Jedrijczak Szmaniak
1815
1904
Mike Szymaniak
1879
1896
Mike Szymaniak
25 Sep 1879
18 May 1896
Michael Szymanski
Philiysus Jacob Szymanski
Raymundus Szymanski
18 Apr 1924
Son Wiezbiskie
2 Jul 1912
5 Jul 1912
Agnes Wiora
81
4 Apr 1974
Agnes C. Wiora
1892
1974
Joannes Wiora
64
22 Oct 1925
Joannies Wiora
35
1 Feb 1928
John J. Wiora
1892
1928
John Wiora
1861
1926
John Wiora
13 Dec 1861
18 Oct 1926
John M. Wiora
7 Oct 1923
21 Jun 1997
Joseph Wiora
1
15 May 1933
Joseph Wiora
1902
1917
Joseph R. Wiora
1902
1917
Josephine Wiora
2 Jun 1931
Josephine
25 Nov 1862
28 May 1931
Leo Wiora
53
29 Aug 1940
Maria Zedrycjczak
11 Jun 1904
Agnes Zelinski
59
25 Oct 1935
Agnes Zelinski
1877
1935
Angela Zielinska
1½
30 Oct 1910
Angela Zelinski
12 Mar 1909
20 Oct 1910
Beverly Zelinski
5 days
13 Jan 1936
Beverly A. Zelinski
1936
1936
Florentina Josephina Zielinska
16
17 Nov 1919
Florence Zelinski
11 May 1903
15 Nov 1919
Harold J. Zelinski
9 Jun 1940
12 May 1998
Joeseph Peter Zelinski
73
30 Oct 1950
Joseph Zelinski
1877
1950
Kasper Zelinski
1821
1911
Lawrence Zelinski
1906
?
Lawrence R. Zielinski
1906
1994
Wilbert Zelinski
35
9 Oct 1944
Wilbert J. Zelinski
1909
1944
Casinvius Zielinski
88
13 Nov 1911
Heetwig Zmyslony
70
12 Aug 1915
Hedwig Zmyslony
1845
1915
Teckla Zywart
78
27 Feb 1946
unknown
unknown